Take your business to the next level with Dedicated Resources.
The power of cloud computing with simplicity of Managed hosting, Thousands of organizations use our industry leading infrastructure to scale their business, including large digital agencies, media outlets, tech startups, universities and Fortune 500 companies.
We are the catalyst for bringing your imagination, skills, and business to life.
Blank Page - We Create what your business needs !
We Provide You with Features for Success:
First-class quality support by WordPress engineers, working as part of your team. Pro-active WordPress experts at your service. They reach out when your attention is needed, Focus on your projects. We'll take care of the configuration and updates
Highly Available & fully scale-able architecture with maximum security and performance. We employ only the best technology at Blank Page, from our server hardware to the software we run. No matter what development stack you use, we'll always have the latest framework versions installed and up to date.
SEO isn't just about building search friendly websites with 5 key-phrases per page, post or product you have. It's about making your site better for people too. At Blank Page we believe these principles go hand-in-hand.
Management is easier when keeping the design of the platform user-friendly and easy to navigate. Providing you premium licenses platform of your choice Plesk or Cpanel with out losing the system performance
Moving your site to Blank Page won't incur any downtime. Our expert migration team will take care of everything for you. We'll assign a temporary domain to your migrated site and check everything before going live
Active and passive measures to stop attacks and malicious intent in its tracks. Continuous monitoring for up time, DDoS attack detection, software-based restrictions, Auto SSL support with Lets Encrypt or Sectigo, and hardware firewalls.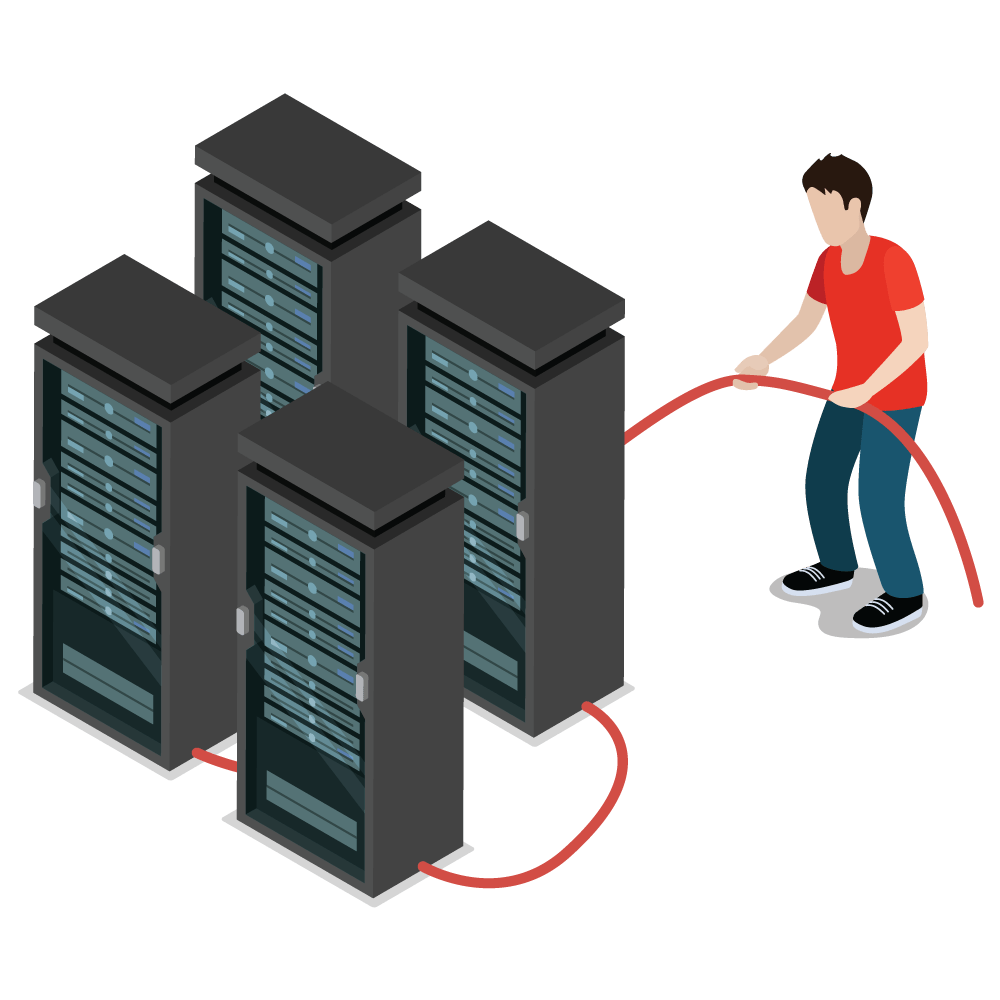 Network spans 200 cities in more than 90 countries with power delivery with HTTP/2 of your content with 99.9% availability, Strategically place your server geographically closer to your visitors
We use state-of-the-art technology like Apache, IIS , PHP.X, software containers, MariaDB or MYSQL, MSSQL, compute-optimized VMs and more to make sure your website loads in the blink of an eye. Featuring complete resource isolation, customized, and high availability, with RAID-1
Depending on your requirements, you may choose one of two disk types: HDD and SSD NVMe. HDDs are traditional spinning disks, which provide the highest storage capacities – however, while HDDs offer extremely high capacities, they are not the fastest options, for high demand on read-/write performance, we now offer SSD NVMe which use the NVMe interface specification for PCI Express-based solid drives. NVMe drives are not affected by the bottlenecks of the ATA interface – delivering up to 4X better IOPS (Input/Output Operations Per Second) than the fastest SAS option available.
Highly-available load balanced architecture
Fault tolerant Enterprise grade server clusters
Automatic Scalability
Instant Backups
Offsite Backups
Managed WP core auto-updates
Expert WordPress support
Full Server Management & DevOps
Free website migration
Staging Sites
End-to-end managed security
Managed auto-updates
Malware monitoring and auto-removal
Free malware removal
Managed web application firewall (WAF)
Bad-bots filtering
Fully locked-down environment
SFTP only service
Let's Encrypt and Sectigo SSL Certificates
Mod Security
Dynamic load balancing
Enterprise HA SSD Storage
Multilayer adaptive caching
Full HTTP/2 Support
SSL Acceleration
Enterprise CDN powered by HTTP/2
Latest PHP versions available (up to PHP7.x)
PHP OPCache
Global datacenter locations
Automatic image optimization
Brotli and GZIP Compression
One-click staging deployments
One-click clone functionality
Database administration through PHPMyAdmin or MyLittleAdmin
Cache Management
LINUX or WINDOWS based environment
Dedicated Mail Server
Dynamic Caching
WebP Image delivery
Minify and combine, CSS,JS, HTML
Starter
CPU - AMD/INTEL 12 Cores 24 Threads
NVME SSD storage - 5gb
RAM - 256MB
MY SQL - 5
Visitors per month - 25000/M
Business Emails - 5
Plesk Premium - Yes
Daily Backup - Yes
Wordpress Premium Custom Website Builder - Yes
Wordpress Image Compression WEBP Delivery - Yes
SSL certificate - Yes
System Cache Delivery - Yes
Wordpress Minify and Combine HTML, CSS and JS System Delivery - Yes
Wordpress SEO Tools, Facebook and Google Analytics - Yes
Wordpress Premium SEO - Yes
Tax - Not Included
Economy
CPU - AMD/INTEL 12 Cores 24 Threads
NVME SSD storage - 10GB
RAM - 512MB
MY SQL - 5
Visitors per month - 45000/M
Business Emails - 10
Plesk Premium - Yes
Daily Backup - Yes
Wordpress Premium Custom Website Builder - Yes
Wordpress Image Compression WEBP Delivery - Yes
SSL certificate - Yes
System Cache Delivery - Yes
Wordpress Minify and Combine HTML, CSS and JS System Delivery - Yes
Wordpress SEO Tools, Facebook and Google Analytics - Yes
Wordpress Premium SEO - Yes
Tax - Not Included
Deluxe
CPU - AMD/INTEL 12 Cores 24 Threads
NVME SSD storage - 20GB
RAM - 1GB
MY SQL - 10
Visitors per month - 100000/M
Business Emails - 10
Plesk Premium - Yes
Daily Backup - Yes
Wordpress Premium Custom Website Builder - Yes
Wordpress Image Compression WEBP Delivery - Yes
SSL certificate - Yes
System Cache Delivery - Yes
Wordpress Minify and Combine HTML, CSS and JS System Delivery - Yes
Wordpress SEO Tools, Facebook and Google Analytics - Yes
Wordpress Premium SEO - Yes
Tax - Not Included
Bronze
CPU - AMD/INTEL 12 Cores 24 Threads
NVME SSD storage - 40gb
RAM - 1.5GB
MY SQL - 10
Visitors per month - 150000/M
Business Emails - 15
Plesk Premium - Yes
Daily Backup - Yes
Wordpress Premium Custom Website Builder - Yes
Wordpress Image Compression WEBP Delivery - Yes
SSL certificate - Yes
System Cache Delivery - Yes
Wordpress Minify and Combine HTML, CSS and JS System Delivery - Yes
Wordpress SEO Tools, Facebook and Google Analytics - Yes
Wordpress Premium SEO - Yes
Tax - Not Included
Silver
CPU - AMD/INTEL 12 Cores 24 Threads
NVME SSD storage - 60GB
RAM - 2GB
MY SQL - 15
Visitors per month - 175000/M
Business Emails - 15
Plesk Premium - Yes
Daily Backup - Yes
Wordpress Premium Custom Website Builder - Yes
Wordpress Image Compression WEBP Delivery - Yes
SSL certificate - Yes
System Cache Delivery - Yes
Wordpress Minify and Combine HTML, CSS and JS System Delivery - Yes
Wordpress SEO Tools, Facebook and Google Analytics - Yes
Wordpress Premium SEO - Yes
Tax - Not Included
Gold
CPU - AMD/INTEL 12 Cores 24 Threads
NVME SSD storage - 80GB
RAM - 2.5GB
MY SQL - 20
Visitors per month - 200000/M
Business Emails - 20
Plesk Premium - Yes
Daily Backup - Yes
Wordpress Premium Custom Website Builder - Yes
Wordpress Image Compression WEBP Delivery - Yes
SSL certificate - Yes
System Cache Delivery - Yes
Wordpress Minify and Combine HTML, CSS and JS System Delivery - Yes
Wordpress SEO Tools, Facebook and Google Analytics - Yes
Wordpress Premium SEO - Yes
Tax - Not Included
Gold Plus
CPU - AMD/INTEL 12 Cores 24 Threads
NVME SSD storage - 100gb
RAM - 3GB
MS SQL - 20
Visitors per month - 250000/M
Business Emails - 25
Plesk Premium - Yes
Daily Backup - Yes
Wordpress Premium Custom Website Builder - Yes
Wordpress Image Compression WEBP Delivery - Yes
SSL certificate - Yes
System Cache Delivery - Yes
Wordpress Minify and Combine HTML, CSS and JS System Delivery - Yes
Wordpress SEO Tools, Facebook and Google Analytics - Yes
Wordpress Premium SEO - Yes
Tax - Not Included
Platinum
CPU - AMD/INTEL 12 Cores 24 Threads
NVME SSD storage - 150GB
RAM - 4GB
MY SQL - 30
Visitors per month - 300000/M
Business Emails - 50
Plesk Premium - Yes
Daily Backup - Yes
Wordpress Premium Custom Website Builder - Yes
Wordpress Image Compression WEBP Delivery - Yes
SSL certificate - Yes
System Cache Delivery - Yes
Wordpress Minify and Combine HTML, CSS and JS System Delivery - Yes
Wordpress SEO Tools, Facebook and Google Analytics - Yes
Wordpress Premium SEO - Yes
Tax - Not Included
Diamond
CPU - AMD/INTEL 12 Cores 24 Threads
NVME SSD storage - 256GB
RAM - 4GB
MY SQL - 50
Visitors per month - 400000/M
Business Emails - Unlimited
Plesk Premium - Yes
Daily Backup - Yes
Wordpress Premium Custom Website Builder - Yes
Wordpress Image Compression WEBP Delivery - Yes
SSL certificate - Yes
System Cache Delivery - Yes
Wordpress Minify and Combine HTML, CSS and JS System Delivery - Yes
Wordpress SEO Tools, Facebook and Google Analytics - Yes
Wordpress Premium SEO - Yes
Tax - Not Included
Starter
CPU - AMD/INTEL 12 Cores 24 Threads
NVME SSD storage - 5gb
RAM - 256MB
MY SQL - 5
MS SQL - 1
Visitors per month - 25000/M
Business Emails - 5
PLESK Premium - Yes
Daily Backup - Yes
Wordpress Premium Custom Website Builder - Yes
Wordpress Image Compression WEBP Delivery - Yes
SSL certificate - Yes
System Cache Delivery - Yes
Wordpress Minify and Combine HTML, CSS and JS System Delivery - Yes
Wordpress SEO Tools, Facebook and Google Analytics - Yes
Wordpress Premium SEO - Yes
Tax - Not Included
Economy
CPU - AMD/INTEL 12 Cores 24 Threads
NVME SSD storage - 10GB
RAM - 512MB
MY SQL - 5
MS SQL - 3
Visitors per month - 45000/M
Business Emails - 10
PLESK Premium - Yes
Daily Backup - Yes
Wordpress Premium Custom Website Builder - Yes
Wordpress Image Compression WEBP Delivery - Yes
SSL certificate - Yes
System Cache Delivery - Yes
Wordpress Minify and Combine HTML, CSS and JS System Delivery - Yes
Wordpress SEO Tools, Facebook and Google Analytics - Yes
Wordpress Premium SEO - Yes
Tax - Not Included
Deluxe
CPU - AMD/INTEL 12 Cores 24 Threads
NVME SSD storage - 20GB
RAM - 1GB
MY SQL - 10
MS SQL - 5
Visitors per month - 100000/M
Business Emails - 10
PLESK Premium - Yes
Daily Backup - Yes
Wordpress Premium Custom Website Builder - Yes
Wordpress Image Compression WEBP Delivery - Yes
SSL certificate - Yes
System Cache Delivery - Yes
Wordpress Minify and Combine HTML, CSS and JS System Delivery - Yes
Wordpress SEO Tools, Facebook and Google Analytics - Yes
Wordpress Premium SEO - Yes
Tax - Not Included
Bronze
CPU - AMD/INTEL 12 Cores 24 Threads
NVME SSD storage - 40gb
RAM - 1.5GB
MY SQL - 10
MS SQL - 7
Visitors per month - 150000/M
Business Emails - 15
PLESK Premium - Yes
Daily Backup - Yes
Wordpress Premium Custom Website Builder - Yes
Wordpress Image Compression WEBP Delivery - Yes
SSL certificate - Yes
System Cache Delivery - Yes
Wordpress Minify and Combine HTML, CSS and JS System Delivery - Yes
Wordpress SEO Tools, Facebook and Google Analytics - Yes
Wordpress Premium SEO - Yes
Tax - Not Included
Silver
CPU - AMD/INTEL 12 Cores 24 Threads
NVME SSD storage - 60GB
RAM - 2GB
MY SQL - 15
MS SQL - 10
Visitors per month - 175000/M
Business Emails - 15
PLESK Premium - Yes
Daily Backup - Yes
Wordpress Premium Custom Website Builder - Yes
Wordpress Image Compression WEBP Delivery - Yes
SSL certificate - Yes
System Cache Delivery - Yes
Wordpress Minify and Combine HTML, CSS and JS System Delivery - Yes
Wordpress SEO Tools, Facebook and Google Analytics - Yes
Wordpress Premium SEO - Yes
Tax - Not Included
Gold
CPU - AMD/INTEL 12 Cores 24 Threads
NVME SSD storage - 80GB
RAM - 2.5GB
MY SQL - 20
MS SQL - 15
Visitors per month - 200000/M
Business Emails - 20
PLESK Premium - Yes
Daily Backup - Yes
Wordpress Premium Custom Website Builder - Yes
Wordpress Image Compression WEBP Delivery - Yes
SSL certificate - Yes
System Cache Delivery - Yes
Wordpress Minify and Combine HTML, CSS and JS System Delivery - Yes
Wordpress SEO Tools, Facebook and Google Analytics - Yes
Wordpress Premium SEO - Yes
Tax - Not Included
Gold Plus
CPU - AMD/INTEL 12 Cores 24 Threads
NVME SSD storage - 100gb
RAM - 3GB
MY SQL - 25
MS SQL - 20
Visitors per month - 250000/M
Business Emails - 25
PLESK Premium - Yes
Daily Backup - Yes
Wordpress Premium Custom Website Builder - Yes
Wordpress Image Compression WEBP Delivery - Yes
SSL certificate - Yes
System Cache Delivery - Yes
Wordpress Minify and Combine HTML, CSS and JS System Delivery - Yes
Wordpress SEO Tools, Facebook and Google Analytics - Yes
Wordpress Premium SEO - Yes
Tax - Not Included
Platinum
CPU - AMD/INTEL 12 Cores 24 Threads
NVME SSD storage - 150GB
RAM - 4GB
MY SQL - 30
MS SQL - 25
Visitors per month - 300000/M
Business Emails - 50
PLESK Premium - Yes
Daily Backup - Yes
Wordpress Premium Custom Website Builder - Yes
Wordpress Image Compression WEBP Delivery - Yes
SSL certificate - Yes
System Cache Delivery - Yes
Wordpress Minify and Combine HTML, CSS and JS System Delivery - Yes
Wordpress SEO Tools, Facebook and Google Analytics - Yes
Wordpress Premium SEO - Yes
Tax - Not Included
Diamond
CPU - AMD/INTEL 12 Cores 24 Threads
NVME SSD storage - 256GB
RAM - 4GB
MY SQL - 50
MS SQL - 40
Visitors per month - 400000/M
Business Emails - Unlimited
PLESK Premium - Yes
Daily Backup - Yes
Wordpress Premium Custom Website Builder - Yes
Wordpress Image Compression WEBP Delivery - Yes
SSL certificate - Yes
System Cache Delivery - Yes
Wordpress Minify and Combine HTML, CSS and JS System Delivery - Yes
Wordpress SEO Tools, Facebook and Google Analytics - Yes
Wordpress Premium SEO - Yes
Tax - Not Included